Industrial Chemicals
AIM offers cleaning and sanitation chemicals that help maintain international standards of hygiene and cleanliness for many of the worlds most respected companies. Our products and services have been developed with several hygiene sensitive sectors in mind: Food and Beverage Processors, Lodging and Hospitality, and Healthcare.
Food and Beverage Processing  
AIM provides food and beverage hygiene solutions to dairies, breweries, soft drink manufacturers, and food processors.
Applications include:
-Bottle Washing
-Conveyor lubrication
-Clean-In-Place
-Open Plant Cleaning
Bottle-washing chemicals for one of the world's leading soft drink manufacturers

Hotels, Lodging, and Healthcare
AIM offers comprehensive hygiene solutions to hotels, restaurants, schools and hospitals. These solutions enable intitutions to maintain hygiene standards at a consistent, controllable cost, in the following application areas:

-Laundry
-Kitchen Hygiene
-Building Care
-Housekeeping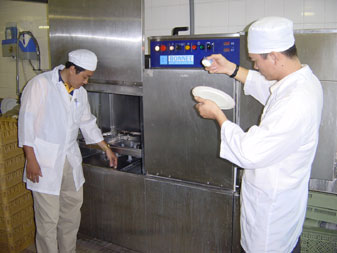 Conducting hygiene audit in the kitchen of one of Vietnam's five star hotels